spacer
Venue address
MESSE BREMEN
Halls 4, 5, 6 & 7
Findorffstrasse 101
28215 Bremen
Phone: +49 (0) 421 3505-0
Show times
Tuesday 19 November 2024
Wednesday 20 November 2024
Thursday 21 November 2024
Plan ahead to ensure you're free for future Space Tech Expo Europe events.
18 - 20 November 2025, Bremen, Germany (Eighth Edition)
17 - 19 November 2026, Bremen, Germany (Ninth Edition)
spacer
spacer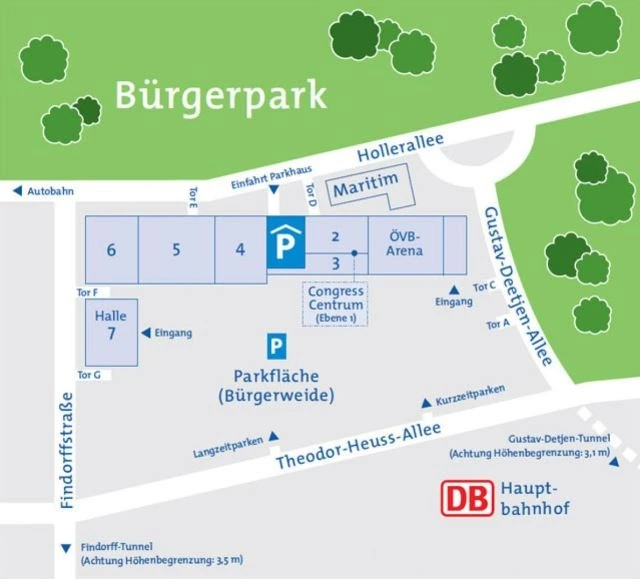 spacer
spacer
Directions & Travel
By Bus:
24 (stop Blumenthalstraße)
26 & 27 (Convention station Centrum)
Timetables are available to view here: https://www.bsag.de/en/information.html
By Tram:
Lines 6 & 8 (stop Blumenthalstraße)
Timetables are available to view here: https://www.bsag.de/de/projekte.html

By Train:
Stop Bremen Hauptbahnhof
3 minute walk from the Messe
Hourly rail connections
Nearly 50 ICE und IC/EC connections daily
Rail timetables are available to view here: https://www.bahn.de/p/view/index.shtml
From the Airport:
Just 15 minutes by taxi
By bus: Service 24 to 'Blumenthalstraße', 26 and 27 to 'Messe Centrum'
By tram: Line 6 and 8 to 'Blumenthalstrasse'
Nonstop-flights from numerous major European cities
For information on Bremen airport: http://www.bremen-airport.com/
By Taxi:
Taxis can drive right up to the halls – destination Hall 5 - ÖVB Arena / Messe Bremen
There is also a taxi stand at the northern exit of the main railway station
On Foot:
To get to Messe Bremen/ ÖVB Arena you will need to go through the train station and out through the NORTH EXIT.
Head northeast toward Theodor-Heuss-Allee, turn left onto Theodor-Heuss-Allee then turn right onto Findorffstraße. The Bremen Messe will be on the right.
From the station's north exit, it only takes about 3 minutes to walk to the Exhibition and Congress Centre and the ÖVB Arena (Bremen Arena). There will be signposts for Space Tech Expo.
spacer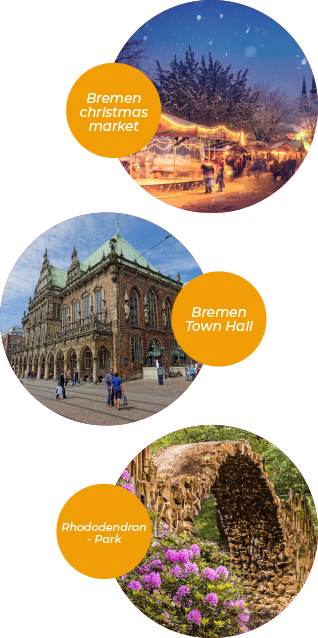 spacer
Parking
There is no free parking at Messe Bremen. There are two public car parks where attendees can park:
Car park 'Bürgerweide'
Cars and trucks can be parked close to the fair centre for the following fees (incl. VAT):
Cars (Daily rate EUR 6.00*), Cars with trailer (Daily rate EUR 10.00*)
Cars / Trucks over 3.5 t (Daily rate EUR 15.00*), Trucks with trailer (Daily rate EUR 15.00*)
The parking lot is public and not guarded and can be reached via Theodor-Heuss-Allee. Sufficient parking space is available, reservations cannot be made. The ticket expires after leaving the parking lot.
Multi-storey car park 'MESSE BREMEN' (accessible for cars only)
The multi-storey car park is open 24 h. The parking fee is EUR 0.60* per hour (Daily rate EUR 6.00*). The entrance of the car park can be reached via Hollerallee.
*Prices are subject to changes by the parking lot administration and include VAT.
spacer
spacer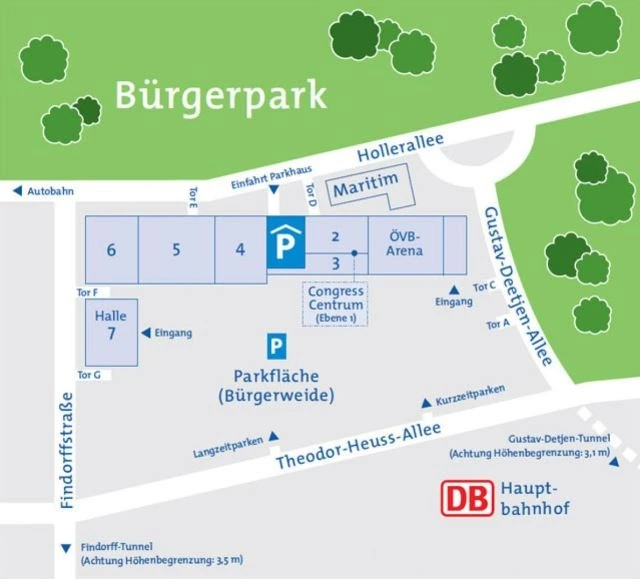 spacer
---
spacer
Explore Bremen
There's so much to do beyond attending Space Tech Expo Europe in Bremen. The city has so many different sides to explore, from history and tradition, to science, nature and culture. There's something for everyone to enjoy.
Need help planning your day? Check out these handy guides pulled together by our venue, Messe Bremen.
Alternatively, you can check out the Bremen-Mobil outside Hall 4 whilst you're at the expo. The ideal chance to get local knowledge on maps, tours, and general information about the wonderful city.